The 2016 IIPC General Assembly and Web Archiving Conference is over. Phew!
Me, opening the Harvesting Tools
session on Tuesday


I always look forward to this event each year. It is by far the most stimulating and productive meeting/conference that I attend regularly. I believe we managed to live up to that this time.
The meeting had a wonderful Twitter back-channel that you can still review using the hashtags
#iipcGA16
and
#iipcWAC16
.
It has been over two years since we, at the
National and University Library of Iceland
, offered to host the 2016 GA, and over a half year before that when the initial decision was made. Even with a 2.5 year lead time, it barely felt like enough.
I'd like to take this opportunity to thank, again, all the people who helped make last week's event a success.
First off, there is the program committee, which was very small this year, comprising, in addition to myself, (in alphabetical order)
Alex Thurman
(Columbia University Libraries),
Gina Jones
(Library of Congress),
Jason Webber
(IIPC PCO/British Library),
Nicholas Taylor
(Stanford University Libraries) and Peter Stirling (Bibliothèque nationale de France). I literally couldn't have done this without you.
I'd also like to note the contribution of our incoming PCO in this list, Olga Holownia who put in a lot of work during the conference to help make sure everything was just right for each session.
Next, I'd like to thank my colleagues at the National Library who assisted me in organizing this event and helped out during by week by handling registration, running tours etc. It was a team effort. Notable mentions to
Áki Karlsson
and Erla Bjarnadóttir who spent much of the week making sure that all the little details were attended to.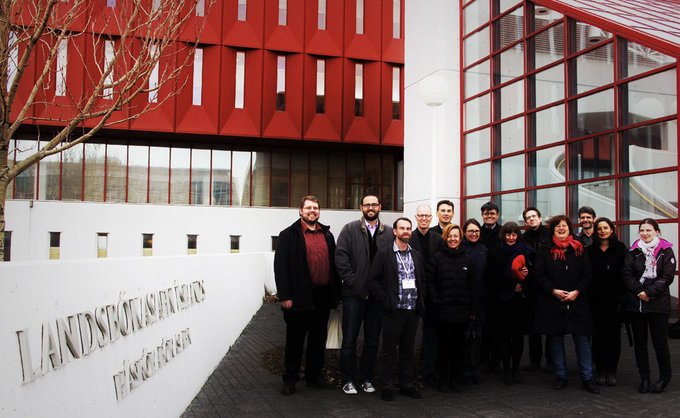 The Steering Committee on Friday
following the SC meeting
A big thank you to all the speakers and session moderators.
And lastly, I'd like to thank the members of the Steering Committee for being willing to entrust the single most important event of the IIPC calendar to one of the IIPC's smallest members. Indeed, doing so without the slightest hesitation.
I've learned a lot from this past week and I hope to be able to distill that experience and write it up so that next year's GA/WAC can be even better. But that will have to wait for another day and another blog post.
For now, I'll just say thanks for coming and see you all again in Lisbon for #iipcGA17 and #iipWAC17.